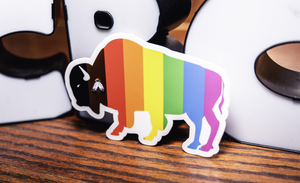 This sticker is the inclusive design (rainbow with brown and black stripe) and the added Two-Spirit feathers. 
From the Indian Health Service: 
"Though Two-Spirit may now be included in the umbrella of LGBTQ, The term "Two-Spirit" does not simply mean someone who is a Native American/Alaska Native and gay.
Traditionally, Native American two-spirit people were male, female, and sometimes intersexed individuals who combined activities of both men and women with traits unique to their status as two-spirit people. In most tribes, they were considered neither men nor women; they occupied a distinct, alternative gender status. In tribes where two-spirit males and females were referred to with the same term, this status amounted to a third gender. In other cases, two-spirit females were referred to with a distinct term and, therefore, constituted a fourth gender."